This post may contain affiliate links, which means if you make a purchase through the link, we get a small percentage at no additional charge to you. See our disclaimer policy for more info.
---
As technology continues to advance, there is an increasing interest in the use of artificial intelligence (AI) in education. One area where AI is particularly useful is in the creation of course lessons and learning supports. In this blog post (created with the help of ChatGPT), we will explore how course creators can use AI to create courses. It will generate content for lessons and learning supports that engage students and support their learning outcomes.
Step 1: Define Learning Objectives
Before creating course lessons and learning supports, it is essential to define the learning objectives of the course. When you're brainstorming your course topic idea, you will identify your ideal student, learning objectives, and more. AI can definitely lend some support here.
It can be used to identify the most critical concepts to cover in your course and the most effective way to deliver the material based on the learning objectives.
Let's go a little further. I wanted to understand what I should ask the AI software to help me determine the learning objectives. Here are the results I got from testing it out on ChatGPT: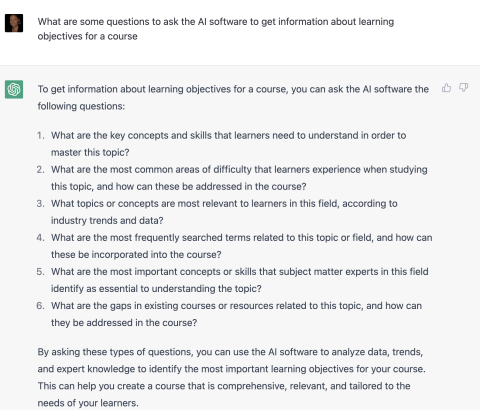 As you can see from the screenshot, ChatGPT provided me with 6 questions that I could ask. These questions will help me define the learning objectives for my course.
Now, let's go a step further. I want to see what ChatGPT will say about a social media management course. Here's what I got when I used question 1.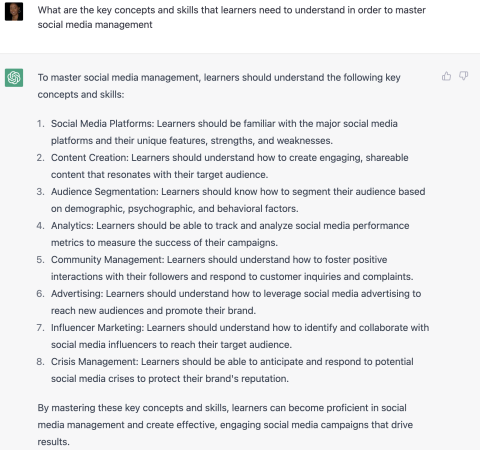 The result was 8 learning objectives. I could then take this information to help me develop my course. I could also use them on my sales page to give potential students an overview of the transformation they could expect.
Get the idea?
Step 2: Personalize Learning Supports
Personalization is essential in ensuring that the material resonates with each learner. AI can analyze student data and preferences to provide personalized learning supports. For example, AI can suggest additional resources to learners based on their performance, interests, and learning style. This personalized approach can help learners stay engaged and motivated to learn.
Step 3: Automate Lesson Creation
AI can automate the creation of lessons based on learning objectives, student data, and preferences. AI can generate lesson plans, quizzes, and assessments, freeing up time for course creators to focus on other aspects of teaching. Automated lesson creation can also improve the consistency and quality of the course content.
Step 4: Use Data to Improve Learning Outcomes
AI can analyze student data to determine what learning supports and lessons are most effective. This information can be used to make data-driven decisions about how to improve learning outcomes. Course creators can use this data to adapt the course content to better suit the needs of their learners.
Final Thoughts
AI has enormous potential in education, particularly in the creation of course lessons and learning supports. By using AI to automate lesson creation, personalize learning supports, and analyze data, course creators can create more effective courses that meet the needs of their learners. By embracing AI, course creators can create engaging and effective learning experiences that help students achieve their learning outcomes.
However, I encourage you to use AI to give you a headstart. Make sure to add your personality and experiences to your course. By sprinkling your unique flavour, you will be giving your audience more value instead of possible generic content.
Your Turn
Have you used AI in your business? How has it helped?