Do you find it to be a constant struggle to get organised as a Virtual Assistant? Here are some organisation tips for Virtual Assistants that will help you stay effective and efficient. 
Organisation Tip – Set goals
The first, and probably most essential organisation tips for Virtual Assistants is setting goals.
Start by determining your ultimate goals for your business. What do you want to achieve as a virtual assistant? Then set yearly, monthly, weekly, and even daily goals that align with those final goals. 
What do you want to achieve this year towards that ultimate goal? What do you want to achieve this month towards that year's goal? How about your weekly goals? What do you want to achieve today towards this week's goal?
Having goals to focus on is a great way to stay organised.
Organisation Tip – Use a naming convention
Have you ever struggled to try to find a file you know you saved? You just can't remember where you saved it and you waste a good amount of time just trying to figure it out. 
Your computer is already set up to make searching for files easy. All you have to do is type a word and hit enter. However, this isn't very helpful when you don't remember the name of the file you need.
That is why it is important to create a naming convention for your files from the start. This means setting guidelines on how to name files. For instance, you could name your files by title, client name, and date (in that order). So when you are searching for files as long as you have this information it will be easier to find.
Organisation Tip – Don't forget Excel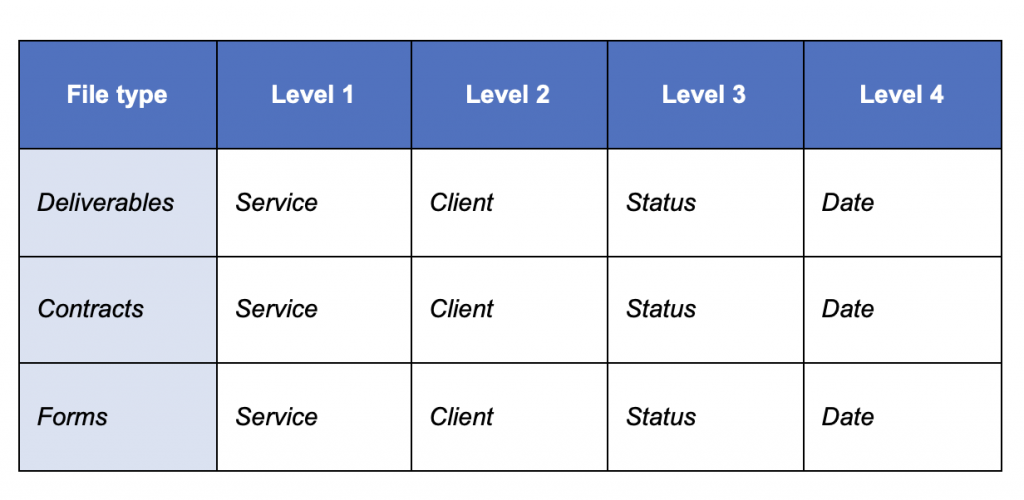 Microsoft Excel can be your best friend as a place to keep your information organised. Or if you prefer, you could use Google Sheets.
Being able to create up to 200 sheets and having access to 1000s of rows and columns means you can keep loads of information in a single file. You can use it for planning, organizing your thoughts and ideas, collecting and organizing data, and so much more. Imagine being able to access all the information you need for your business by clicking on a single file. 
Note: As they say, don't keep all your eggs in one basket. So if you do keep all your information in one place, make sure you have a backup system in place.
Organisation Tip – Always keep a to-do list
Sometimes you might think that it's okay to keep it all in your head. However, while you might only have a few things to do now that can easily change in minutes. Soon one thing can turn to five things. Keep a to-do list from the very start so that as your list keeps growing nothing will slip through the cracks.
Organisation Tip – Establish a filing system
Think of your thumb drive or documents folder as your very own library. In the same way a librarian will find a way to organize books in a specific order, make an effort to organize your files in a specific order. This will help make it easier to find things in the long run.
Organisation Tip – Organise your physical space
Even though you are working virtually, you should not ignore the fact that your physical space needs to be organised too. Your physical space equally affects how efficiently you work. For instance, keep the things you need where you can find them easily and quickly. Take some time to organize your physical space.
Organisation Tip – Organise your emails
If you're not careful, over time you'll have hundreds, if not thousands, of emails in your inbox. But have you ever found yourself searching through infinite emails looking for something? It can be very time-consuming. That's why it's important as a virtual assistant to keep even your emails organised. 
Email providers like Gmail allow you to create folders and even subfolders for your emails. So create folders based on the types of emails you receive. Then after you read an email, rather than leaving it in your inbox to pile up, send it to a designated folder with other similar ones. 
So, for instance, you may have a folder called 2020 under another folder called WRITING CLIENTS. The next time you are searching for an email that fits that description, you'll know where to find it. You won't have to dig through hundreds of emails in your inbox.
Organisation Tip – Use sticky notes
Sticky notes can be an effective way of keeping the important things in your day in your focus. Even though you are living the virtual life, old-fashioned tools like these can be a great backup especially when the digital tools we depend on fail.
Organisation Tip – Delete or Archive
A clutter-free life is a good thing. One good place to start de-cluttering is your email inbox. What can you delete – spam emails, ads, automatic responses? However, if you don't want to delete things, what can you archive? There have to be unnecessary things that you can part with or put away.
Try to get that inbox from that triple-digit number (or worst) down to zero. There is a great feeling of ease that comes with looking in your inbox and seeing nothing. That's a sign that you're on top of things. It's like having nothing left on your to-do list at the end of the day.
Organisation Tip – Use checklists
Looking for more organisation tips for Virtual Assistants? Then check this simple one. Create checklists for your processes.
This tip is especially important if the number of virtual assistant services you provide continues to grow. In your daily work, you don't want to forget anything or for things to get mixed up because you are doing so much. Furthermore, if you need to hire someone to help you, checklists make it easy to transition tasks to new staff. Task checklists help ensure that nothing slips through the cracks and that all services are provided with a consistent level of quality every time.
Additional Resources
This is by no means a comprehensive list of organisation tips for Virtual Assistants. But they are a good place to start. They can help you to be more efficient in your virtual assistant business. 
Check out these previous blog posts to guide you on your Virtual Assistant journey.