This post may contain affiliate links, which means if you make a purchase through the link, I get a small percentage at no additional charge to you. See my disclaimer policy for more info.
If you're planning to start a virtual assistant business, you'll need a business plan! Businesses of every type do, and we as virtual assistants are no different. You might not be providing a physical product, but even service providers cannot avoid the need for a solid written business plan. To help you get started, in this article, we'll offer business plan tips for virtual assistants. Here are some questions to ask yourself when writing a business plan for your virtual assistant business:
1. Why do I want to start a business?
At the top of the list of business plan tips is Your WHY. Knowing this from the start can be a great source of motivation as you go forward. Why do you want to have a business? For some, it's about enjoying the freedom to work when they want and with whom they want. For others, the why is to be flexible and have time for family and friends. What is the #1 motivator for you?
2. Who do I want to serve?
It is important to define your target audience. Is it small or medium-sized businesses? Individuals such as coaches, writers, fitness instructors? Many virtual assistants serve smaller businesses that cannot afford to hire full-time staff and prefer to outsource.
Where are your clients located? Are they in your own country, region, or international?
In what industry do they operate? Is this an industry you'd feel comfortable serving?
3. What services do I want to provide?
This is key when building your business plan as a virtual assistant. The services you provide are what defines and differentiates your business. But you also want to ensure that they are relevant to your target audience. Ask yourself these questions to narrow down your services:
What skills do I have?
What challenges or questions does my target audience have? Can I help them through my services?
How much time do I have to support my clients?
What resources do I already have? Can they help me get the job done, or will I need to invest in other tools?
4. What products do I want to create?
Apart from offering a service, you could sell products as well. Your products could be physical or digital. For example, you may sell a book online that buyers can either download on their device or collect in the mail. Or, you may prefer to sell an online course?
Perhaps you have technical skills and you could create an app to sell to your audience along with your services. These are some things to consider for your business plan.
5. How much money do I want to make?
Another business plan tip is establishing your financial goals. You need to know what you want financially so that you can properly measure whether or not your business is accomplishing what it should. There are several ways to meet your financial goals:
Sell your product or service on your own
Invite persons to sell for you – they earn a commission on every sale
Subcontract some of your services – bring on a VA to work with you
Participate in affiliate income opportunities e.g. include affiliate marketing links in your blog posts
Add passive income products/services e.g. sell an eBook on your website, Amazon, Etsy or AppSumo
In slow seasons, you might not get enough work to sustain yourself. So these are some ways to help you meet your goals without having to do it alone.
6. Where will I operate my business?
There is a simple answer for this for virtual assistants who plan to work from home. However, some virtual assistant businesses are office-based. Owners might hire a group of people to work in-office serving clients around the world virtually. If that's your plan, you'll need to think about where.
7. How far do I want my business to go?
Here are some questions to help you decide the scope of your business:
Do I want to focus my services in a specific geographic area, or do I want a wider reach?
Am I only providing specific services, or do I plan to increase my offerings over time?
Do I prefer to go solo or will I want to hire a few more VAs so I could take on more clients?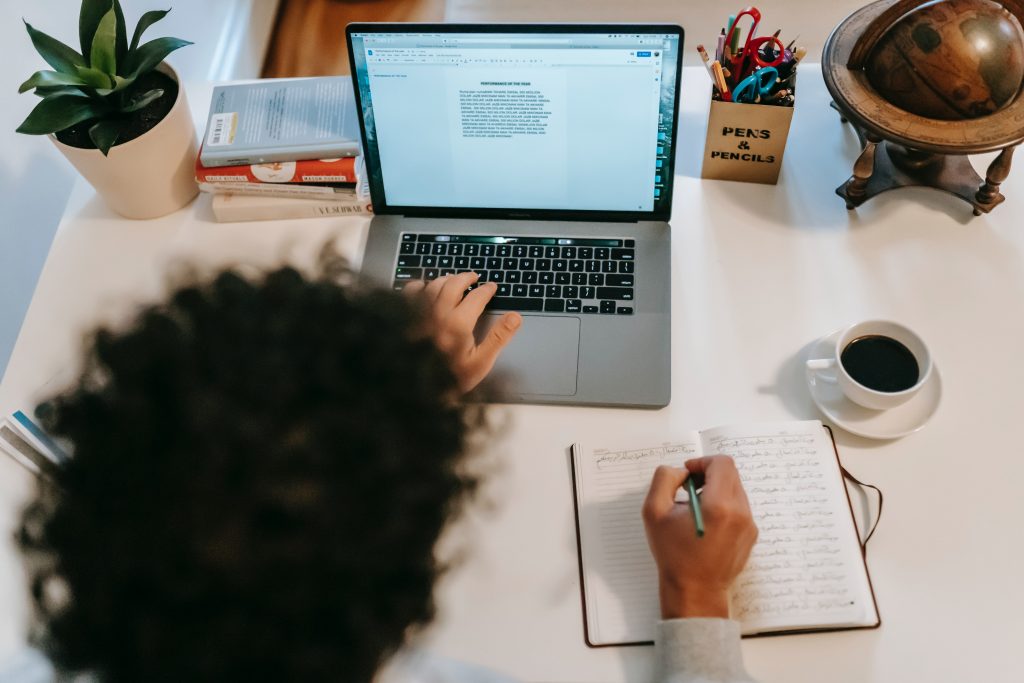 8. How will I market my business?
Social media is one of the first things that come to mind when you think of marketing a business. However, you could also have a website with a strong SEO setup to enable a high ranking in Google searches. Another way to market your business is to be a guest speaker on podcasts and provide guidance to other small business owners.
What will you do to get the world's attention and to get people buying your products/services?
9. When do I want to start?
Whether it is the business itself, or a project, it is important to establish timelines. Setting timelines helps you to keep you focused on your target. Establish a timeline for each stage of your plan. Decide what you will complete in a month, a quarter, a year, and so on.
Final thoughts
These questions should always be at the top of your mind when putting together a business plan as a virtual assistant. The answers will reflect the very nature of your virtual assistant business.
In my VA Resource Library, you will find a one-page business plan to get you started. There are other essentials in there to help you in your virtual assistant business such as content ideas for your online platforms and an hourly rate calculator.
Also, I'd love to hear your thoughts on these business plan tips. Share in the comments below.